5 Ways A Quality Standing Seam Ridge Vent Helps Contractors Win
If you work with standing seam roofing, you know it's an excellent roof and provides great results to customers.
However, like anything else, standing seam roofing is not perfect.
One of its weaknesses is the ridge vent. A trustworthy vent is critical because it is a leading source of leaks, wind damage, ventilation issues, and other problems with an otherwise ideal standing seam roof.
While the whole roof is important, care should be taken to choose a quality standing seam ridge vent.
At SnapZ we want to help you do that.
Here are five of the top reasons every standing seam contractor needs a quality roof vent.
Faster Standing Seam Roof Installation
It's no secret - profitable construction jobs need well-designed products that are designed for the job and efficiently installed.
The problem with most standing seam ridge vents is they are clumsy and not customized for each job. This results in wasted labor measuring and cutting parts as well as product waste and scrap.
So how is this improved?
Here at SnapZ, we offer several features with our ridge vents to make your roof installation quick and efficient.
Material is pre-cut to your exact specs (within 1/16"), so you don't need to measure and cut on the job site.

We offer pre-applied butyl tape if you want an even faster installation.

The parts are prepackaged and can be shipped directly to your job site via UPS Ground or Freight.
What does this all mean for your crew?
If you choose the pre-applied butyl tape, then all your crew needs to install SnapZ's ridge vent is their screw guns and screws!
You can have your labor focused on efficient installation of the ridge vent instead of wasting time measuring, cutting, and assembling the pieces.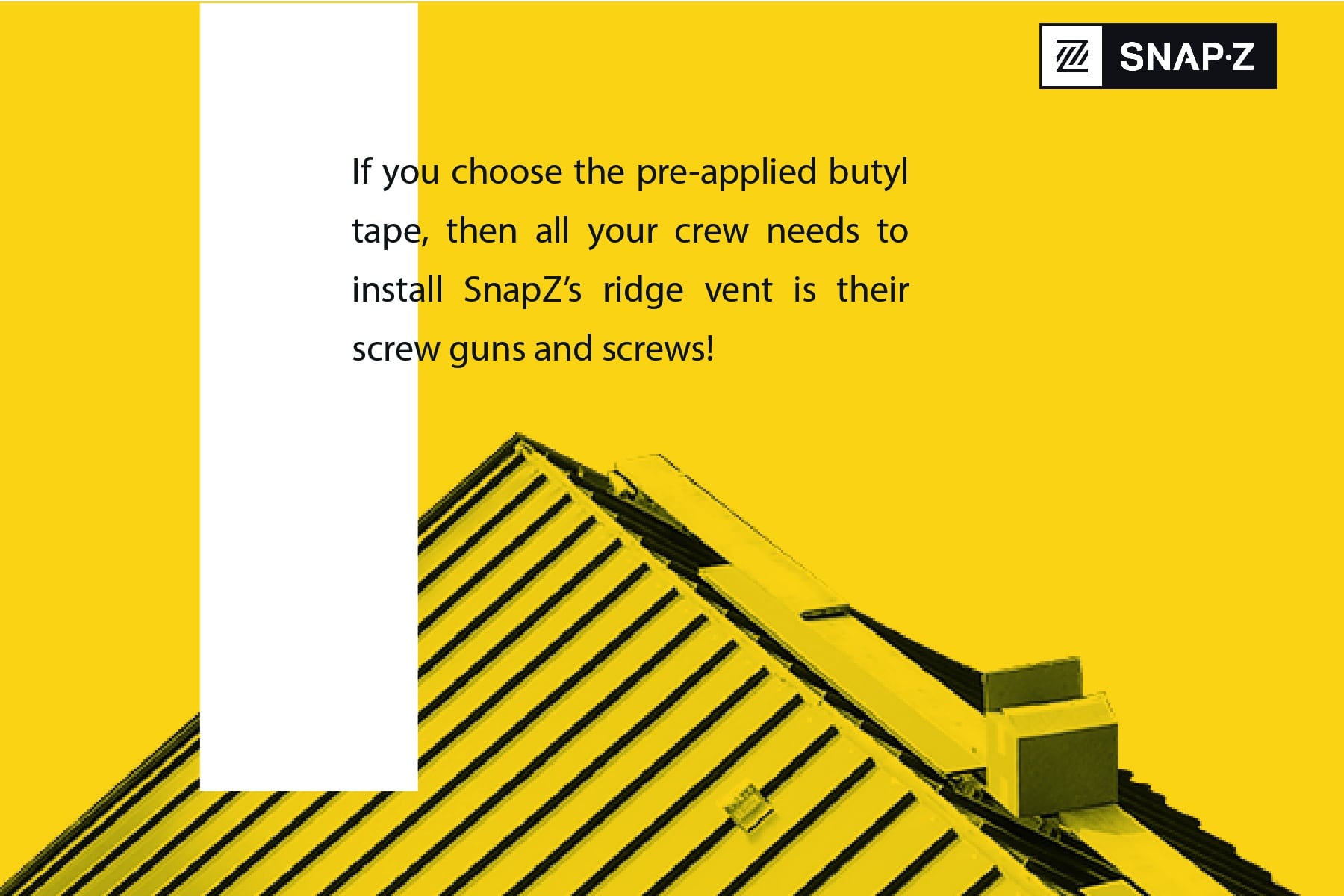 Better Metal Roof Protection
Cheap metal ridge vents result in a variety of problems and issues on the project - both in the building and on the rest of the standing seam roof.
Thankfully, having a sturdy, well-built ridge vent and installing it properly solves many of these problems.
SnapZ's vent protects the rest of the roof with the following:
It is tested by Intertek to withstand wind, rain, and snow up to 110 mph.

The metal is fire rated.

If screws are installed with the recommended 2-3" spacing, both the ridge vent and the standing seam panels are kept securely in place while still allowing for thermal expansion.
Don't let inferior vents damage the rest of your roof over time! Instead, choose and install a quality vent right away to provide long-term protection and durability.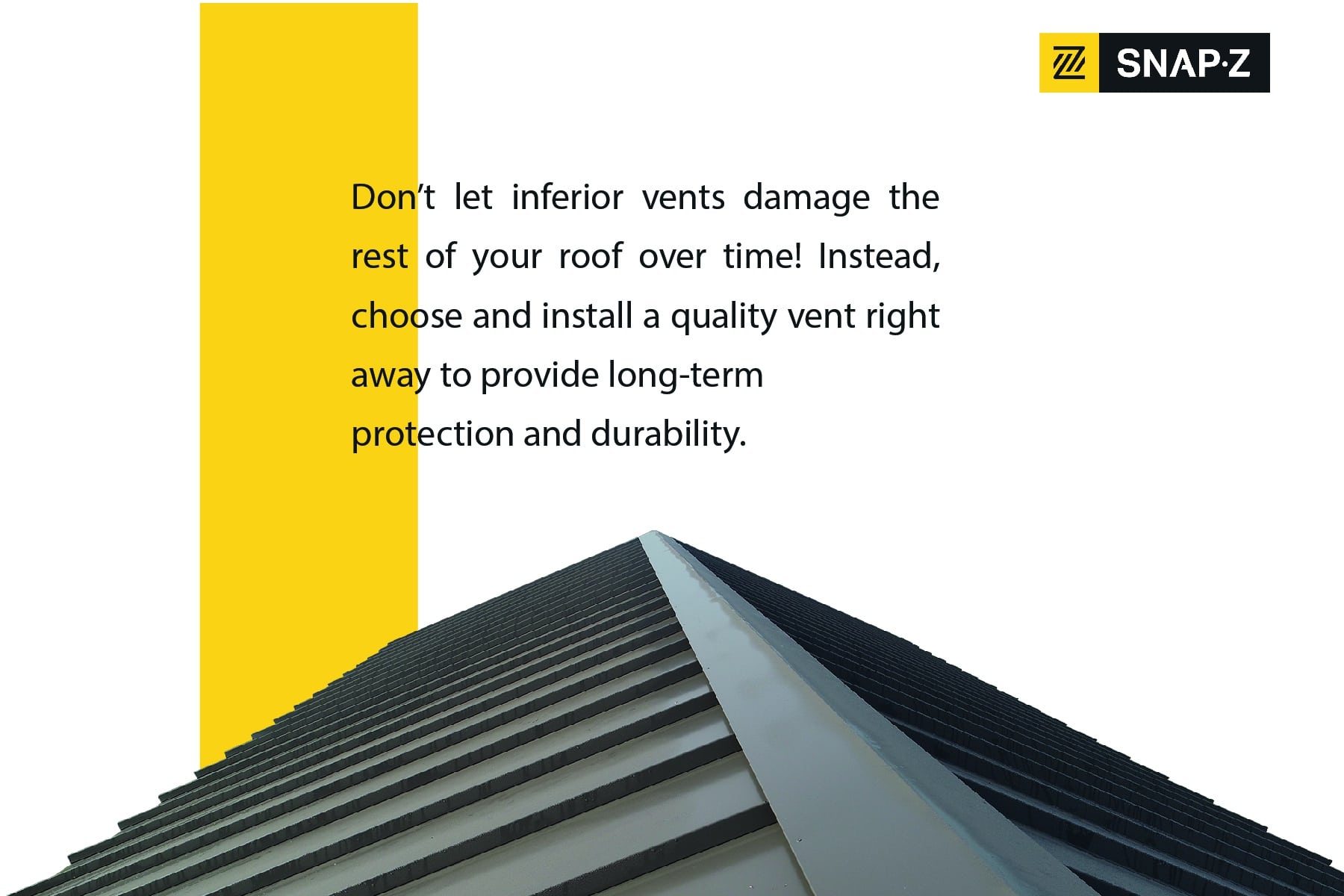 A quality ridge vent not only protects the rest of the roof, but it is also crucial in protecting the attic space as well.
Proper attic ventilation and protection is often overlooked, resulting in multiple attic issues and lower overall building efficiency.
How does SnapZ's roof vent help prevent issues?
It uses screening foam and wire which prevents bugs, bats, and other critters from entering or chewing through.

It allows for proper attic ventilation. Proper ventilation helps reduce cooling and heating bills and also reduces moisture and mold in the attic.

Having proper ventilation is also critical in reducing ice dams on roofs by reducing temperature swings that cause the freeze/thaw cycle.
Better protect your client's roof and attic long-term by choosing a quality standing seam ridge vent!
There are a lot of aspects of running a profitable roofing business, and one of them is having fewer customer callbacks and little warranty work.
Every contractor knows warranty work is a drain on company profitability, even if some money is budgeted for it.
So how does a quality ridge vent reduce your warranty work on standing seam roofs?
Fewer issues after major weather events like high winds or heavy rain

Reduced or eliminated moisture and critters entering the attic

No problems from seams or profile issues during expansion and contraction

Increased protection from ice dams and other winter roof issues
When choosing and installing a ridge vent on your projects, remember that taking a little extra time to purchase and properly install a quality vent results in long-term dividends for your company.
So what happens when you have fewer issues on your roofing projects and your roofing materials last for decades?
You get happy customers and referrals!
And while good advertising is important for business growth, nothing is more powerful than a happy customer who is giving your name out for roofing projects.
This is especially critical in the commercial market where there is high competition and lower profit margins.
However, when customers realize your projects are well-built with quality products, you will receive a coveted position:
The trusted roofing contractor in your area!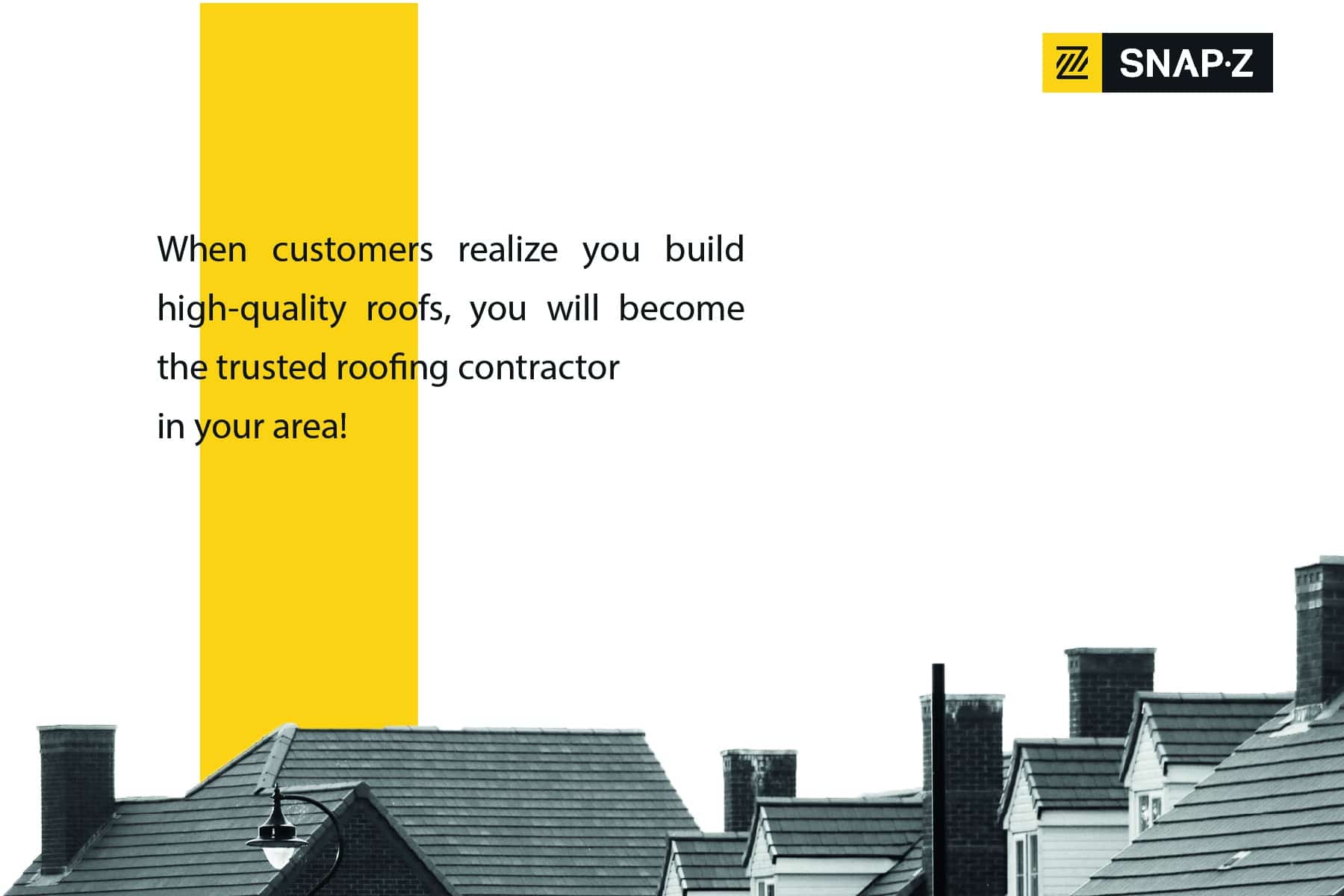 You can stop the search for a quality standing seam roof vent for your roofing projects. You can save time and labor while installing the ridge vents on your projects. And you can have more satisfied customers in your area.
How is this possible?
By using SnapZ's ridge vent - the ultimate standing seam roof vent!
We offer dealer and wholesale pricing. Call us at 717-572-0910 or contact us today!